These compact tractor and mini skid steer bolt on serrated tooth bars are manufactured from 1/2″ thick high carbon, hardened steel, specifically designed to resist abrasion while remaining ductile enough to absorb impacts without cracking like other more brittle AR steels found in many competitors products.
Designed for easy installation and removal with included carriage bolts and flange nuts, the only tool needed is a 3/4″ socket or wrench. Additionally, these cutting edges maintain a smooth bottom edge, allowing you to back drag smoothly with the edge attached. The shanks on other toothed bars will often extend below the cutting edge, preventing a smooth grade after digging.
While some competitors require drilling mounting holes in the bucket sides, at Cold Roll Industrial we understand that this creates a localized stress concentration and will eventually lead to stress cracking and failure of your bucket. The Cold Roll Industrial Serrated Tooth Bar only requires drilling of your existing cutting edge for mounting and doesn't compromise the structural strength of your bucket. Check out our analysis pictures below for the comparison.
Available in various widths and colors to match your compact tractor or Mini Skid Steer. Common bucket widths are available below, to order a custom width please fill out the contact form and include your desired width, color (CRI Charcoal Grey or Green) as well as your shipping zip code. All bolt on serrated tooth bars include mounting hardware. Installation requires drilling 1/2″ or 17/32″ bolt holes.
John Deere Cutting Edges
John Deere 53″ Bucket (54.875″ Edge Width) – $280.00 including FREE ground shipping
John Deere 61″ HD Bucket – $317.50 including FREE ground shipping

John Deere 72″ HD Bucket (75.125″ Edge Width, 6″ Bolt Spacing) – $375.00 including FREE ground shipping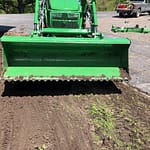 Universal Cutting Edges – Kubota, Kioti, Etc
Please note – all Gloss Black Edges will now be shipped in our CRI Charcoal Grey powdercoated finish.
Charcoal Grey Edge 46-52″ Width (Specify overall width in payment comments or by contacting us after ordering) – $265.00 including FREE ground shipping

Charcoal Grey Edge 53-62″ Width (Specify overall width in payment comments or by contacting us after ordering) – $315.50 including FREE ground shipping

Charcoal Grey Edge 63-72″ Width (Specify overall width in payment comments or by contacting us after ordering) – $355.00 including FREE ground shipping

Charcoal Grey Edge 73-82″ Width (Specify overall width in payment comments or by contacting us after ordering) – $435.00 including FREE ground shipping

Serrated Tooth Bar Pictures – Universal Black